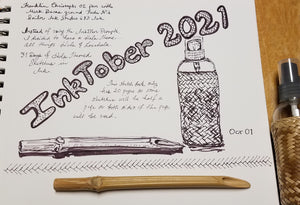 Day 1 For the month of October, artists/sketchers draw with ink and share it in their social media. There are Inktober Rules & Prompts, but one can use their own prompts or themes. This is my first time participating in #InkTober. I was inspired by Seattle Urban Sketcher "Fueled By Clouds & Coffee" Tina Koyama. After reading her blogs and going down the rabbit hole of sketching with fountain pens, I bought my first fude nib fountain pen. An inexpensive Jinhao pink shark. After finding that I enjoyed sketching with a fude nib, I invested in a better quality Franklin-Christoph 02 (F-C...
---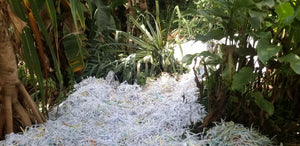 Mālama:  nvt. To take care of, tend, attend, care for, preserve, protect, beware, save, maintain; to keep or observe, as a taboo; to conduct, as a service; to serve, honor, as God; care, preservation, support, fidelity, loyalty; custodian, caretaker, keeper. [https://wehewehe.org]  "Before"  "After" two cleaning visits.  Once the vines were cleared one could see its "feet."  The person who planted this puhala made a little rock "wall" around the base. There was probably more space between the puhala keiki and the rocks at that time. I do this when I plant things in my yard to create a protective boundary...
---
• Hawaiian style • lauhala • lauhala hat • Lauhala weaving • papale • papale lauhala • Ulana lauhala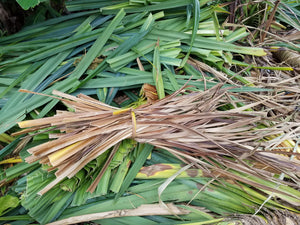 These pictures were taken over the past weeks and during my visits at Māʻona Community Garden.   I almost always forget to take "before" pictures.  The picture (above left) is an "after" picture but one would never know we actually thinned the puhala. The above right picture is the underside and one can see the stubs of branches we cut from the trunk.  It had been so tightly packed with branches that very little ventilation was causing the leaves to rot before truly drying.  The picture below is some but not all of the green waste. With devastating invasive species such as...
---
• Hawaiian style • lauhala • Lauhala weaving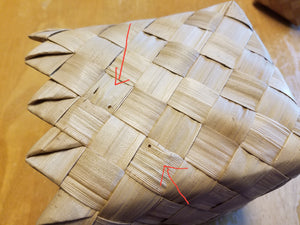 Tahitian lauhala is really nice to work with.  The lau is long and pliable.  Unfortunately, the way they process it, makes it susceptible and attractive to bugs.  In Hawai'i, we generally harvest lau that is naturally dried on the tree.  The dried out "dead leaves" are not as attractive to bugs, but they will eat it if there's nothing else for them to feed on. I do not know the exact type or name of the bugs - they look like little beetles but I've also seen termites eat lauhala too. It's heartbreaking to find insect damaged lauhala as I...
---
• Hawaiian style • lauhala • lauhala hat • Lauhala weaving • papale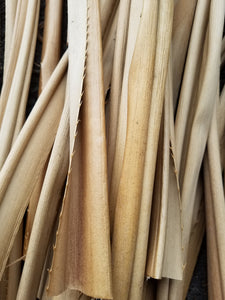 These are just a tiny sample of what's out there in cyberspace.  I just happened upon and enjoyed them. Thought you might too. This one is of Michele Zane-Faridi of Hana Hou in Hilo with one of her haumana.  They show and talk about gathering lauhala.  Looking at the thorns and the bugs, it'll help one understand the time consuming preparation of lauhala. And how just any dried leaf will not do.  Cleaning and caring for the puhala is vital.  Visiting Michele and Shadi (her daughter) at Hana Hou has been inspirational during these COVID19 lock down times since the Ka...