• fiber art • fiber arts • Hawaiian style • lauhala • lauhala hat • Lauhala weaving • papale • papale lauhala • Ulana lauhala • ule hala • vintage style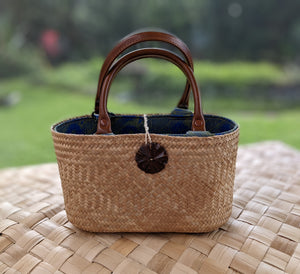 Sometimes thrift stores call to me... Like $7 good quality jeans for working in the yard. And this $2 Liz Claiborne purse... the "leather" handles are perfect for upcycling on a new lauhala purse.  The original purse had a scuff on the other side, but the handles were just fine. I wasn't going to buy it at first because I thought, "really? When are you making another purse?"  But $2!! So I bought the purse back in February and it sat patiently until "it was time."  Said time came up when EH accidently wrecked one of his favorite aloha shirts at work.  I...
---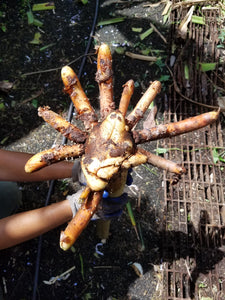 I was back at Māʻona Community Garden this morning.  Chantal was working her chainsaw taking down a puhala that had grown out of its pot and was putting pressure on a retaining wall.  She said "hey, look at this!" and I just had to take pictures. The underside of the ulehala (aerial root) that splayed out to smaller roots. Right side up view.A flattened plastic planter pot that Chantal found under the splayed root. It was amazing that the ulehala (aerial root) came down, hit the plastic pot and flattened it. When the ulehala couldn't grow through the plastic to reach the ground, it...
---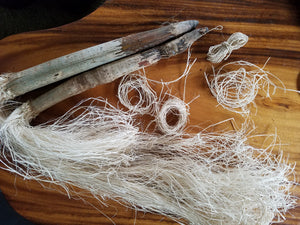 I was helping Chantal at Māʻona Community Garden last week. We pruned a bushy puhala. I forgot to take a "before" picture.  While all the branches and leaves we cut were put aside to compost, it seemed like a waste to let it all go without trying to make something of it.  I saved some green lau, which I will write about it in another post, and four ulehala (aerial roots) pictured above.  When making papale, we weave in a string at the beginning of the brim to hold its shape and fit.  When I first started making papale I...