• fiber art • fiber arts • Hawaiian style • lauhala • lauhala hat • Lauhala weaving • papale • papale lauhala • Ulana lauhala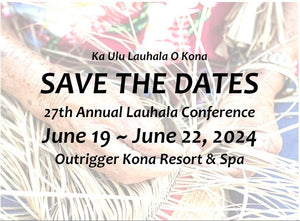 Ka Ulu Lauhala O Kona 2024 conference will be once again at the Outrigger Kona Resort & Spa. Next year, we will have the large conference room back.   To book your hotel rooms for 2024 Lauhala Conference, make sure to use Block Code: 240605LAUH. Special conference rate for our attendees will only be good till end of February 2024. https://reservation.outrigger.com/landing?adult=1&arrive=2024-06-15&chain=18497&child=0&config=OKRGROUP¤cy=USD&depart=2024-06-26&fbclid=IwAR3tu2I69Ily8Ubj9lpYhQhcIcK3Ho12r8FblUMz_Nxg5b9HzONgI4z8uyY&group=240605LAUH&hotel=10827&level=hotel&locale=en-US&rooms=1
---
• fiber art • fiber arts • lauhala • Lauhala weaving • Ulana lauhala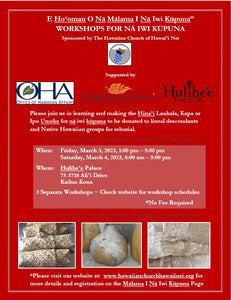 The Hawaiian Church of Hawai`i Nei will be holding iwi kupuna workshops again this year on March 3rd and 4th at the Hulihe`e Palace.  They will be having 3 workshops at the same time but separately.  The workshops this year will be: Hina`i Lauhala, Kapa and Ipu Umeke.  Please visit their website to view the workshop schedules and to register for a workshop.
---
• fiber art • fiber arts • Hawaiian style • lauhala • Lauhala weaving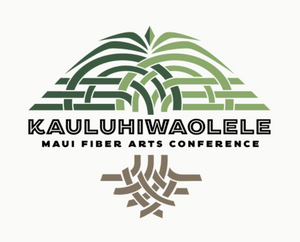 Kauluhiwaolele Maui Fiber Arts Conference recognizes the multiple ways we utilize Hawaiian plant material.  The conference will consist of four days of intense instruction in these weaving crafts by 20 of our kumu (master practitioners) from throughout Hawaiʻi. 150 students are invited to the opening and closing ceremonies of the conference to learn the associated protocols of gathering and utilizing weaving materials. Local favorites will be served at the culminating celebration, and students are encouraged to wear or display items they created throughout the conference. Live Hawaiian musicians entertain between the silent and live auctions hosted that evening. The proceeds...